Homepage
A to Z Index
People
Places
Plays
About these letters
About EJ Phillips
Chronology
E
J Phillips Facebook Fan Page

EJ Phillips: Her dramatic career,
cross-country travels, family life and Golden Age of the American theatre
How a 19th-century character actress and single mother traveled the country, performed with the great actors in the Gilded Age, and raised a family in her spare time
Mary Glen Chitty
Plucky 19th century Canadian girl (1830-1904) finds an acting career and love in Toronto. but must support herself and her two young children when their much older father dies in 1864. She becomes a notable Broadway actress, touring California seven times and performing for and meeting Grover Cleveland in the White House. . An indefatigable letter-writer, she left a cache of over 1,000 letters to her young adult son Albert Nickinson which ended up in a family attic to be read and researched by the author, her great-great granddaughter. <![if !supportLineBreakNewLine]>
EJ Phillips in The Rivals as Mrs. Malaprop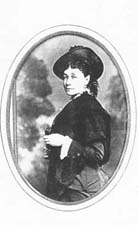 Sarony 87 Union Sq. N.Y. <![endif]>
Chestnut St Theatre Philadelphia 1877
The letters reveal an enterprising intrepid working woman who matured as a respected character actress and continued to work well into her late 60s. Working in the stock companies of the Union Square and Madison Square Theatres in New York City, Elizabeth Jane (known as E.J.), performed with the greats of her day, including Booths -- Junius Brutus Booth Jr. in "Othello" (the night Lincoln was shot by his brother John Wilkes Booth), JB Booth Jr's widow Agnes Booth and Barrymores Maurice Barrymore, father of Lionel, Ethel and John, and James O'Neill, father of Eugene, during what has been described as the Golden Age of American theatre. She performed in Washington DC during Grover Cleveland's 1885 inauguration and attended his inaugural ball.

Cleveland inauguration souvenir program 1885 <![if !vml]>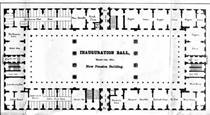 <![endif]>
Pension Building floor plan Inaugural Ball
When Broadway roles weren't forthcoming, or New York theaters were closed during hot summers she traveled with her New York touring companies overland by train to California seven times, visited Indian reservations, and climbed Pike's Peak on horseback.
A trained historical researcher, Chitty pieces together a social, geographical, and theatrical history of the Gilded Age and the Victorian theatre scene from the many letters E.J. wrote describing the actress's professional concerns, her touring schedules, house-keeping issues, boarding-house life, single-parent childrearing, mothering and grandmothering, medical dilemmas, and the rigors of long-distance travel. Her sturdy cheerfulness and unflagging interest in the scenes unfolding around her have much to teach us today about the balancing act that is modern life. The book also details the stories of uncovering the contexts and significance of these first hand reports in an era marked by rapid changes in technologies, great volatility and uncertainty in the theatrical profession (and elsewhere) in both booming and trying economic times.

*Prologue: Climbing Pike's Peak 1883

This dramatic letter is the earliest we have from EJ Phillips, written from San Francisco during her second trip to California.


Signal Station Pike's Peak 1882, Library of Congress
About EJ Phillips


I can remember as a child hearing exotic stories about great-great grandparents who acted. These had much more to do with the irony of Yankee (as we thought of the Canadian) John Nickinson playing in Uncle Tom's Cabin (in a family with then five, now six generations of Florida born folk, including both editors and annotators.) I had only the haziest of ideas about him and great-great grandmother EJ Phillips, until I started reading some of these letters (stored in a Styrofoam ice chest in the attic) in Sewanee Tennessee in December 1991, on the morning I planned to leave. Mother and Daddy showed up in Boston that summer (1992) with two boxes of letters , a little daunted at the prospect of dealing with this quantity. I began transcribing at random, word- processing about five pages. Later they found another trunkful of letters and papers in a garage in Pensacola Florida. The 1,000 plus letters fill a photocopy paper carton, not counting other artifacts and photographs. It is not just the current generations who harbor packrat tendencies.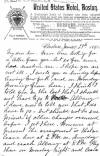 Elizabeth Jane Phillips letter
Crystal box with engraved EJP initials

About Mary Glen Chitty

1. Early life 1830-1852 Chatham Quebec, Hamilton Ontario Canada and amateur theatricals
"Her family was in no way concerned with the theatre, and she passed her girlhood in an environment that would seem to offer small opportunity for the development of dramatic talent." EJ Phillips obituary 1904 However the amateurs of Hamilton seem to have been somewhat more progressive than theatre in Toronto, as Mrs. Malaprop was being played there by a man with a beard, while Hamilton had actresses such as EJ Phillips playing that role.





2. Toronto 1852- 1862
John Nickinson

Royal Lyceum Theatre 1852-1859, 1860


After Mitchell's Olympic Theatre in New York closed abruptly in 1850, John Nickinson formed his own company and with daughter Charlotte toured in Providence Rhode Island, Montreal, and Rochester and ended up in Toronto in 1851. In 1852 he and Charlotte took to the road again with a larger company and more varied repertoire. The company included Charles Peters (who married Eliza Nickinson) and Miss EJ Phillips. After the Utica Museum [Theatre] Nickinson had been managing failed in 1852 he resettled in Toronto in 1853 as Manager of the Royal Lyceum Theatre and stock company. EJ Phillips wrote at the end of her life "In the meantime I had received several offers of employment from professional companies and at last accepted one from Messrs Besnard & Nickinson to open the season in Toronto, Ont on Easter Monday 1852 at the Royal Lyceum Theatre.

Uncle Tom's Cabin was the outstanding success of John Nickinson's first Royal Lyceum Theatre season, which achieved an unprecedented run of nine performances, from May 31 to June 8, 1853. Toronto's first production was a tremendous hit, and the first production to have an extended run. Charlotte Nickinson played Eliza, EJ Phillips Cassey, and Virginia Nickinson was Topsey.

John Nickinson and EJ Phillips also produced and performed in Dion Boucicault's Octoroon in 1861, the second most popular play about slavery, after Uncle Tom's Cabin.

John Nickinson was 22 years older than EJ Phillips. Their relationship obviously dated from about the time EJ Phillips joined his stage company in 1852, for his letter of October 3, 1859 refers to "our seven years of past love". The date of their marriage is less clear (and Canadian records for that time were lost in a fire). John Nickinson Jr., son of his first marriage, wrote to the New York Clipper after his father's death that his parents had never been divorced. John Nickinson and EJ Phillips had three children -- Charles Alderman (born. Toronto, Apr. 30, 1858 - died Pittsburgh, Sept. 1859). Hattie Christine Harriet Melanie Nickinson (Dolman) (born Toronto, Aug. 24, 1860 - died Philadelphia Oct. 9, 1946) and Albert Edward Nickinson (born Cincinnati July 8, 1863 - died Pensacola, Florida June 3, 1948)

By July 1858 Owen Marlowe, husband of Virginia Nickinson Marlowe, was the manager of the Royal Lyceum and John Nickinson had resigned (though he became manager again in September). "But the December Aladdin holiday spectacle failed to revive the theatre's failing fortunes" and the New York Clipper announced the closing of the Royal Lyceum Feb 19, 1859. The Marlowes reopened the theatre in April 1859. Later that year EJ Phillips and other Royal Lyceum actors were hired by the Pittsburgh Theatre, which closed after four months. In August the Marlowes announced the closing of the Royal Lyceum having lost $1,000. In September John Nickinson was In Buffalo to see Henry T. Meech "with every expectation of getting that theatre". In March 1860 Nickinson once more took over the Royal Lyceum until August. when ads stopped appearing in the newspapers. We have playbills from Rochester (1859), Toronto and Belleville, Ontario(1860), Lockport, Hamilton and Ottawa, Ontario, Erie, Pennsylvania and Montreal and Quebec City (1861). The Ottawa theatre closed in December 1861. Clearly this was a very unsettled time.

3

. Cincinnati 1862-1866
Pike's Opera House hired EJ Phillips in 1862 and John Nickinson in 1863. What was it like for EJ Phillips and John Nickinson to move from Canada in 1862/63 to Cincinnati a border state? Was their move purely an economic decision? Albert Nickinson was born July 8, 1863, while John Nickinson was in Nashville performing with other Pike's Opera House actors.

*Civil war in Cincinnati
John Nickinson died Feb 9, 1864. EJ Phillips and Junius Brutus Booth Jr were playing in Othello the night Lincoln was assassinated April 1865. Pike's Opera house burned March 1866.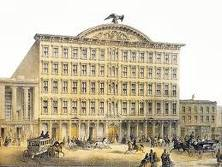 Pike's Opera House, Cincinnati Ohio



Chapter "Samuel N. Pike and Pike's Opera House" from Recollections of a Scene painter, E.T. Harvey, Cincinnati Ohio 1914 [via Google Books]. "John Nickerson [sic] was stage manager at this time. He and Miss Phillips lived together as man and wife. There was a mystery about them, however, it was hinted that he had a wife and family living in Canada. [The first Mrs. Nickinson was then living in New York.] … Miss Phillips continued with the Pike company until the theatre burned down, and if there was any scandal it was forgotten. She was a pleasant, home-like woman of about forty [33 when Nickinson died] perhaps. … She played what was called 'Old Women and Heavies" and was very capable. After Pike's burned she went to the Union Square, New York [12 years later] and was in all their big successes."

4. Single parenthood and no fixed abode 1867-1874
Indianapolis, acts with Edwin Forrest in 1868 New Orleans and St. Louis with Ben Debar, and touring with Shakespearean actor Lawrence Barrett (1873-1875) in the US and Canada. Children boarded in Indianapolis, Philadelphia and Suffern NY. Panic of 1873
EJ Phillips and actress Charlotte Cushman





5. Philadelphia 1875-1878
Chestnut St. Theatre, Our Boys Centennial Summer

Centennial Exposition 1876 opening day

6. Golden Age of the American Theatre
New York and AM Palmer 1877-1893
Union Square Theatre Company 1877-1885 Union Square Theatre


Saints & Sinners by Henry Arthur Jones 1885-1891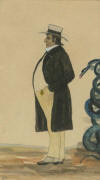 William LeMoyne self-portrait "Sam Hoggard" The "Saint" to E.J.P. "The Sinner"
Madison Square Theatre Company 1885-1891

Madison Square Theatre program
Engaged by WS Gilbert 1886

WS Gilbert's Burlesque Comedy "Engaged" was an inspiration for Oscar Wilde.


Jim the Penman 1886-1892

Palmer's Theatre Company 1888-1893
1892 -1893 EJ Phillips performs with Ramsey Morris.
1893 AM Palmer offers EJ Phillips an engagement with Charles Frohman





* Oscar Wilde and Lady Windermere's Fan 1893-1894


Olga Nethersole 1894-95 Camille, Romeo & Juliet, Frou Frou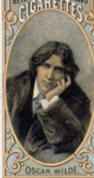 Olga Nethersole

7. Decline of stock companies 1893-1897
Depression of 1893
1893 Nov Mr. [AM] Palmer still uses my name, but I do not think it will do him any good. I think Chas Frohman will fulfill his contract with me for this season, and then will perhaps want me for the next season. In going to California with Palmers Co I would still be under Chas Frohman's & [AL] Hayman's management. It is a mixed-up affair all around. In fact a game of Battledore and Shuttle-cock. And the Actor is the latter and the manager Battledores him where ever he pleases.

Gay Parisians 1895-1897



Charles Frohman and the Theatrical Syndicate 1896
On August 31, 1896 six men gathered at the Holland House Hotel to discuss the creation of what would be named The Theatrical Syndicate. Abraham Lincoln Erlanger, Charles Frohman, Al Hayman, Marc Klaw, Samuel Nixon, and Fred Zimmerman pooled their resources--theatres that they owned, leased, and booked--to create more rational trips for theatres troupes when they were on the Road. They told the theatre world that they would rid the theatre business of managers who booked several shows a night to ensure a performance (leaving the extra shows with nothing). They promised they would help the producers cut expenses by booking the troop in a logical route with stops all along the way. The rise of the Syndicate was a logical progression now that performances were on The Road, but with this new trust, both the show and the theatre itself were controlled by one company. Soon the Syndicate had created a monopoly which only allowed performers and houses to work with Syndicate products or not at all. Abby Manzella, The Syndicate and the Shuberts, University of Virginia 2000



8. Philadelphia 1897 April-1904 August
Recalled from Retirement 1898 Feb
I was called very unexpectedly to play a part at the Broad St. Theatre -- and everything had to be given up to that. A week ago Sunday Mr. and Mrs. [Willie] Seymour called to see me -- he being here with Mr. Sol Smith Russell who was playing a two weeks engagement at the Broad St. Theatre. We had a pleasant chat -- and he left about 6 PM and I did not suppose I should see him again. -- but as I was washing the supper dishes on Monday he came in a cab -- to ask me to go with him to the theatre to play "Clementina" in A Bachelor's Romance in place of Mrs. Fanny Addison Pitt whose husband Mr. Henry Mader Pitt had died at 3 PM that day in New York and she would have to go on to New York to attend the funeral -- so I took a couple of gowns and went. … Not having acted for a year and two and a half years since I studied the part -- you can imagine I had to "hustle" but everyone said I was very good and the management was very much pleased and thanked me very much

Death of Mrs. EJ Phillips 1904
The New York Times obituary (August 10, 1904) headline read OLD ACTRESS DEAD
Mrs. EJ Phillips, one of the oldest [74] actresses in this country, is dead in Philadelphia. ...In her forty-five years of stage life she was associated with nearly every prominent actor and actress of her time. During her three years with Lawrence Barrett she played nearly all the important Shakespearean roles. A dozen years ago Mrs. Phillips held a position on the American stage very similar to the one Mrs. Gilbert holds to-day. She had all the grande dame roles in Mr. Palmer's and afterward in Charles Frohman's stock companies. Like many other stage favorites her "last appearance" was predicted many years before it actually occurred. Toward the end of her career every time she came on the stage she was greeted with a storm of applause.

* 9. 20th century quilt
When Mrs. Phillips was "on the road" she kept a plentiful supply of unbleached muslin squares in her trunk. In her spare moments she would arrange on these squares little scraps of costume material, for those were the days when actresses made and paid for the greater part of their stage wardrobes. To me, the most interesting thing about the quilt is that many pieces had a history. My grandmother [Hattie Nickinson Dolman] can remember where most of the pieces came from, and in many cases, just how a particular dress was made, for as a young girl she helped her make a good part of the stage wardrobe. There is a bit of burgundy-colored brocade in the quilt, which came from the Nurse's gown in "Romeo and Juliet". Mrs. Phillips played the Nurse to Olga Nethersole's Juliet [1894]. A piece of purple and old gold brocade comes next. That was used for a tea gown in "Captain Swift"[1888]. Agnes Booth [wife of Junius Brutus Booth Jr., brother to Edwin and John Wilkes] and Maurice Barrymore [father of Ethel, Lionel and John] were in that. The striking piece of silk, near the center, the light to dark lavender brocade, has perhaps the most interesting history of all. It was a ball gown worn to a reception in Cincinnati for the Prince of Wales, later Edward VII, in about 1861 [Sept 1860]. When Mrs. Phillips was playing at Pike's Opera House Mr. Pike brought the dress to her saying it was too conspicuous for his wife to wear often, and if Mrs. Phillips could use it, she might have it. Barbara Dolman Spencer, written for her freshman English class at the Univ. of Pennsylvania 1930




10. Letters transcribed 1992-1999 and researched 1992- present
Lure and joys of research and lessons for the 20th and 21st century from the Gilded Age.


SIDEBARS
Actors and Acting

* Acting life
EJ Phillips reviews in Hamilton and Toronto Canada were "never enthusiastic, but were kind and encouraging" Mary Shortt
She seems to have come into her own as a mature character actress.
I
n February [1881]
The Danicheff'
s
(from 1876-77) was revived with
Thorne, Parselle
and
Stoddart
in their original roles. "But no one could expect
Mrs. Phillips
, good routiniere, to replace the magnificent
Fanny Morant
as the Countess Danicheff, a part in which Miss Morant had been superb in the expression of haughty pride and iron insistence on the feudal rights of domination in the lives of her son and dependents". Odell
And on Dec 5th [1881] George Robert Sim's "powerful melodrama" The Lights o' London with "the falsely accused hero, the villainous cousin, the obdurate father, the long suffering wife, the comic relief, the elaborate scenery, the frequent change of scenes, virtue triumphant and villainy foiled. EJ Phillips played Mrs. Jarvis to John Parselle's "Dicken's like character of Jarvis "of Jarvis' Temple of the Legitimate" and Maud Harrison their son Shakespeare Jarvis. The play was a great success and the last time Charles Thorne and Sara Jewett appeared together, as Thorne left the company at the end of the season and died a few months later. "Some must have missed Marie Wilkins as Mrs. Jarvis, a part she should have played admirably, whereas the competent, conscientious Mrs. Phillips lacked something of the required touches of broad comedy". Odell
Artist's Daughter by Elliott Barnes Union Square playing Mme De Vaux. 1884 Oct 7 NY Times Review "Mrs EJ Phillips had an insignificant part, which she acted with her accustomed zeal."
NY Times Review Sept 24 1895 Gay Parisians at Hoyts "Mrs EJ Phillips, as the wicked friend's over-mature wife, accomplished work that for a moment approached real comedy"

But her roles and reviews improved enormously over the years.
* Barrymores and Drews
EJ Phillips knew and acted with Drews and Barrymores, particularly the good looking but rakish Maurice Barrymore. .

and Georgie Drew Barrymore, parents or Lionel, Ethel and John, and Louisa Lane Drew, mother of Georgie.
Booths

Junius Brutus Booth Jr.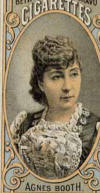 Agnes Booth (Mrs Junius Brutus Booth Jr.)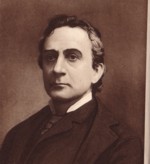 Edwin Booth

* Actors' Fund Fair 1892 at Stanford White's new Madison Square Garden
The Actor's Fund Fair was held May 2-7, 1892 in Stanford White's new (opened 1890) Madison Square Garden. "The entire floor was laid out as a miniature village of one street in the midst of a plain. The buildings were models of famous theatres of ancient London and older New York, and the architecture and picturesque local color of several centuries and of places far distant from each other were cleverly brought into harmony. "Without my desire or consent, the Ladies Executive Committee made me chairman of Sub- Committee no. 24 (There are 40 sub- Comm'ees.) And I know as much about it as a cat knows how to play a fiddle. My only comfort being that there are many others just like me." The object of the Fund in giving the Fair is to realize $100,000 to establish an orphanage for children of deceased Actors





The fair began at 8 PM with its officers mounting a set of stairs into an overhanging box on the south side of the building. [Joseph] Jefferson entered moving "lightly up the stairs" with [AM] Palmer and the much enfeebled Edwin Booth, who was unable to speak publicly. Both actors were warmly applauded, and Jefferson made a brief speech. Then Booth and Jefferson bowed, hand in hand, to an applauding audience, while the band played The Star Spangled banner," and Mrs. AM Palmer waved the American flag above them. Arthur Bloom, Joseph Jefferson: Dean of the American Theatre, Savannah, Frederic C. Beil, 2000




Actors' Fund Fair Harpers Weekly May 1892

* Gilbert & Sullivan

HMS Pinafore, Patience, Gondoliers,
Engaged BY WS Gilbert The first New York performance of Engaged was in Feb. 1879. (It opened in London in 1877). The production first described in these letters was the Feb. 1886 Actor's Fund benefit performance in New York.. EJ Phillips played Mrs. MacFarlane. Gilbert was already collaborating with Sullivan but this play preceded their operettas.

"Engaged [is] unquestionably the finest and funniest English comedy between Bulwer- Lytton's Money and Wilde's The Importance of Being Earnest, (1895) which it directly inspired".

Hard traveling and Hotel Life
Portland, July 1, 1890 Since I left Boston [in May] I have been on the move all the time, and the past two weeks have been spent on railroads & in theatres. We are here for a week, and although we are to give eight performances, still it seems a rest to be in one spot for even a week.

Philadelphia, June 27, 1892 I may have considerable travelling to do, but I can live at first class hotels as cheap as I can live in boarding houses in New York.

Hotel letterheads give a real sense of the "Gilded Age" as the images on hotel stationery get larger and more opulent, particularly in the 1890's. The frequency of "absolutely fire proof" (Note the 1890 Nadeau in Los Angeles "practically fireproof") is a reminder of how often theatres and hotels burned down. However few 19th century hotels survive -- even the ones still here, such as the Palmer House in Chicago and Williard in Washington DC are not the same buildings. What is also obvious is that EJ Phillip's companies usually stayed in the best hotels in town.

Principal plays and parts of EJ Phillips





* Shakespeare including bawdy aspects of Shakespeare and Shakespearean burlesques
1889 1890 April 29 Players Club Shakespeare's Birthday Ladies Days



Cities and travel
* Boston, Massachusetts 1884-1895
1888 Baseball Bostons and Philadelphia
Dan Brouthers
1890 flowers in the Public Garden
1895 Harvard, Washington Elm and Longfellow's House, Cambridge

Chicago 1874 1875 1878-1881 1884- 1896
1887 Strikes and anarchist troubles
1888 Palmer House
* 1893 Columbian Exposition

Midway Plaisance



* Denver, Colorado 1883 1886 1888 1890
Harper's Weekly in 1886 described the state as being "ridiculously rich and extremely young" and as having "set about securing for herself a State- house or Capitol building in the city of Denver which shall be, as her people delight in saying 'worthy of her dignity and proud distinction as a Centennial state.'"

* Los Angeles 1888 1890 1896
Los Angeles Arboretum & Botanic Garden, Arcadia CA across from the Santa Anita Race Track was the home of EJ "Lucky" Baldwin, owner of the Baldwin Hotel and Theatre in San Francisco . Elias Jackson Baldwin, homespun Yankee capitalist, in 1875 paid a fantastic $200,000 ($25 an acre) for Rancho Santa Anita. Queen Anne cottage built for the fourth Mrs. Baldwin in 1885, Santa Anita Depot [reconstructed to 1890 appearance]; Coach Barn c1879 Baldwin's stylish "Tally Ho" carriage, purchased at the Philadelphia Centennial Exposition in 1876, is on display.




1896 Street car ride to Pasadena.

Lucky Baldwin's house, Arcadia CA 2013

Middletown NY
Son Albert moved to 1886.
Albert Nickinson married Mary Penelope Macardell Thanksgiving 1889.
Edward Phillips Nickinson born (1890-1948)

Mary Penelope "Neppie" Macardell Albert Nickinson
Asylum Baseball Club, Excelsior Hook and Ladder Company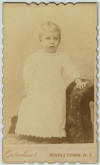 Edward Phillips "Ted" Nickinson c 1891



New Orleans 1868-1873 1897
My next engagement was at the "Varieties Theatre" in New Orleans which commenced in Octr 1869-1870. 1871 Engaged by Chas Pope for the St. Louis "Olympic theatre". This management having theatres in Memphis Tenn., New Orleans, and Mobile. The company was sent several times during the season to support "stars" in those cities

John Nickinson's New York 1837-1850 John Nickinson's later success in Toronto seems due to his contacts, particularly with James Wallack, and knowledge of theatre in New York. He produced plays which had recently been seen there, invited friends and colleagues to perform in Toronto and brought a new level of sophistication to Toronto dramatics. His connections influenced the children from his first marriage and EJ Phillips' later career. Charles Dickens Edgar Allan Poe

New York 1877-1897
Statue of Liberty and Bartholdi Day Oct 28, 1886

The statue was presented by France, in commemoration of 100 years of American independence. However only one arm was available in 1876. The hand and torch of the Statue of Liberty had been displayed at the 1876 Centennial Exposition in Philadelphia, and then shipped to Madison Square New York for display. Fundraising for the platform took some years to complete, finally being organized by Joseph Pulitzer. EJ Phillips seems likely to have seen the arm in Philadelphia during the Centennial -- and she almost certainly saw it in Madison Square Park since she was working at the Madison Square Theatre at the time.
Blizzard of 1888
My dear Son, Are you snowed up or snowed down or snowed under? I do not find any news from Middletown in any of the papers, although there seems to be all the other places in the State mentioned. I pray you are safe. No use to telegraph you for you would not get it. Went to rehearsal yesterday at 11. After Stage manager, prompter and the stage hands, no one was there but Mr. [EM} Holland and Mr. [Harry] Hogan and myself. The wind coming from the West made it very difficult for me to get back home, but I got here safe and have not been out since, as the theatre was closed last night, Mr. [James H] Stoddart not being able to get here from Rahway [New Jersey]. I guess he is here now, as I have been notified that we are to play tonight. Snow and sleet are falling fast, and I think our house will be slim. This is my tenth consecutive winter in the City, and this is by far the heaviest snow storm we have had. Even the elevated roads were compelled to stop running. 6th Ave surface cars not running yet.
Centennial of George Washington's Inauguration 1889
Celebrated with a "three days' festival, a naval review by President Benjamin Harrison, a march past of 50,000 soldiers from 21 states, a civic parade of 75,000 persons and other imposing ceremonies". Kings NYC
The centennial celebration of George Washington's inauguration as the first President of the United States took place in 1889 (from April 29th to May 1st). Considered the first national holiday in the U.S., various societies held parades and "inaugural balls" to honor the former president.
* Public health, photography, Dr. Nagle and Jacob Riis
EJ Phillips often mentions Dr. and Mrs. Dr. Nagle, the boardinghouse keepers at East 21st Street but never mentions Dr. Nagle's connection with Jacob Riis. Given her interest in Henry George, newspaper reading and interest in current events it would be surprising if she was not aware of their collaboration. Dr. Nagle's obituary (New York Times June 15, 1919) mentions how Nagle "joined the late Jacob A. Riis in his pleas for small parks in tenement districts and for the abolition of "rear tenements Riis writes in his autobiography The Making of an American how "upon my midnight trips with the sanitary police that the wish kept cropping up in me that there were some way of putting before the people what I saw there. A drawing might have done it, but I cannot draw, never could…We used to go in the small hours of the morning into the worst tenements to count noses and see if the law against overcrowding was violated, and the sights I saw there gripped my heart until I felt that I must tell of them, or burst, or turn anarchist, or something…I wrote but it seemed to make no impression. One morning, scanning my newspaper at the breakfast table, I put it down with an outcry ... There it was, the thing I had been looking for all those years. A four-line dispatch from somewhere in Germany,…. A way had been discovered, it ran, to take pictures by flashlight. The darkest corner might be photographed that way. I went to the office full of the idea, and lost no time in looking up Dr. John T. Nagle, at the time in charge of the Bureau of Vital Statistics in the Health Department to tell him of it. Dr. Nagle was an amateur photographer of merit and a good fellow besides, who entered into my plans with great readiness... Within a fortnight a raiding party composed of Dr. Henry G. Piffard and Richard Hoe Lawrence, two distinguished amateurs, Dr. Nagle and myself, and sometimes a policeman or two, invaded the East Side by night, bent on letting in the light where it was so much needed
.
Philadelphia 1875-78, 1887-1904
Hattie married John Dolman 1887
Baseball 1887 Philadelphias and Detroits
Jack Dolman born [1888-1952]
Elizabeth Ellen Dolman born [1891-1892]
Melanie Nickinson Dolman born [1897-1878]

Hattie and Jack c 1889
Arrival of the 20th century 1900 Dec., 31

Portland Oregon, Seattle Washington 1890,1896, Vancouver and Victoria Canada 1896 |Tacoma Washington June 23, 1890, We arrived here last Evening about 7. We passed through a fertile country and Industry flourishing on all sides. It is astonishing to see the many new villages being built up along the line of railroad from here to Portland. I shall try to see something of the place tomorrow. They have street cars here worked by electricity. I shall see what I can through a side on these. There is a large Indian Reservation here that I hope to visit before leaving.

Crane & Co played here last week and yesterday met them halfway between here and Portland. Both companies got out of the cars, and each greeted the other very warmly and ended in singing "Auld Lang Syne" in a very high key. It was very funny, and was thoroughly enjoyed by ourselves, as well as the natives, the latter looking on in blank amazement, but I do not think there were a quarter of the number Mr. Jarrett gives in his interview with the newspaper reporter. I think 40 would be nearer the mark than 400. Of Cranes Company whom I knew were Mr., & Mrs. [William Henry] Crane, Mrs. Foster, Mrs. Lizzie Hudson Collier, Mrs. Georgie Drew Barrymore, Mr. [George F.] DeVere and Mr. Herbert who was at the Chestnut St. Theatre [Philadelphia] during my last season at that house.

Salt Lake City, Utah 1884 1886 1888 1890 1896
1886 Sept 14th Went this morning by invitation of the Mormons to hear the big organ in the Tabernacle. It is fine!
1888 To Great Salt Lake by special train

* San Francisco 1882-1884, 1886, 1888, 1890 1896
Telegraph Hill, Chinatown, Cliff House



* Washington DC 1885 1887 1891 1893 1894 1896
1885 Grover Cleveland's inauguration and inaugural ball
1887 Actors' Fund performance in DC and visit to White House
1891 Arlington House, Lee Mansion, Soldier's Home and Lincoln Cottaged




General Sheridan tomb ,
Arlington House 1891

Soldiers Home

Lincoln Cottage
* Railroads
Train travel then and now, train wrecks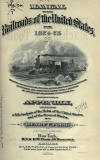 ____________________________________________________________________

* Health and Medicine
Aging, Dentistry, Diet and Nutrition, Exercise, Homeopathy, Infectious diseases including tuberculosis, Mental Health, Mortality, Public Health, "Tonics" Food
* Sarah Bernhardt's cold prevention recipe


* Rum & Drinking and RUM
Pregnancy and childbirth Babies
Housekeeping and boarding house life
1895 March Detroit to Albert and Neppie "So you are going through the delights of moving. You will be astonished to find you have so much worldly goods, but will need more."
* Money
Household accounts, Incomes and salaries, Panic of 1837, Panic of 1857, Panic of 1873, Depression of 1893
Henry George, Progress and Poverty
S

tage clothes



Politics and legal matters
Copyright, international relations, New York politics, Prohibition, Grover Cleveland inauguration 1885, William Jennings Bryan vs. William McKinley 1896, US Grant's tomb 1886

Recreations and Sports
Amateur theatrics, baseball, bicycles, Dancing, Fishing, Horse racing and driving, Masons, Music, Sleighing, Swimming, Volunteer fire departments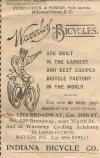 Slang blues, down in the dumps, hang out, head of the heap, hustle, kick, kids, knocked silly, Mom, razzle dazzle, snooze, sore



Technologies
Air conditioning, electricity, elevators, fire prevention, gas lighting, photography, refrigeration, sewing machines, telegraph, telephones, typewriters



Appendices and illustrations
Maps: City and regional



Nickinson Chronology 2017 Excel EJ Phillips, John Nickinson, Nickinson children

Index: Until I get a search engine for this website use Google site search "site:maryglenchitty.com" with whatever word or phrase you are looking for.

*potential for article or blog post

Last revised May 14, 2018

Homepage A to Z Index Bibliography People Places Plays About these letters About EJ Phillips EJ Phillips Facebook Fan Page